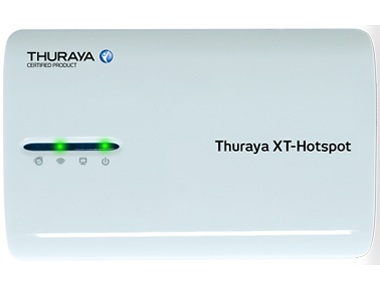 Thuraya XT-Hotspot WiFi Access to the Thuraya XT Satellite Phone
Accessory adds WiFi to the Thuraya XT Satellite phone
The Thuraya XT-Hotspot enables easy and economical internet access over Thuraya's mobile satellite network with fast download speeds of up to 60 kbps. The XT-Hotspot uses the GmPRS connection of the Thuraya XT handset for quick and secure internet connectivity in the most remote locations. Users can now access their email and browse the web using their favorite WiFi device (smartphone, tablet, laptop, etc.).

Great Arbor Communications is the exclusive designer and manufacturer of the XT-Hotspot.
How does it work
The XT-Hotspot connects to the XT phone via a supplied standard USB hub. The hotspot has an internal battery which can power the unit for up to 4 hours. Alternatively the unit can be powered through the supplied 110/220 volt DC adapter. Upon powering up, the hotspot opens us a GmPRS connection to the Thuraya network using the XT handset as a packet data modem and allows authorized WiFi devices in the vicinity to share this packet data connection.
Note the XT-Hotspot only works with the XT phone and does NOT work with the XT Dual.

Specifications
Standards

IEEE 802.11n, IEEE 802.11g, IEEE 802.11b

Wireless Signal Rates

11n: Up to 150Mbps; 11g: Up to 54Mbps; 11b: Up to 11Mbps

Frequency Range

2.4-2.4835GHz

Security

WEP, WPA-PSK/WPA2-PSK

Interface

One 10/100Mbps LAN Port, USB 2.0 Port for Thuraya-XT, Micro USB Port for DC power

Internal Battery
2000 mAh (up to 4 hours of WiFi access). Battery can be recharged by the included adapter or from a PC using the included USB cable

Power Adapte

r
Input: 110/220 volt, Output.; 5 Volts, 1A
Operating Temperature
15 deg C to 40 deg C
Storage Temperature
-20 deg C to 50 deg C
Software Features
Always Up Data Connections and On-Demand Connections
Certifications
CE, FCC, RoHS
Brochure
Thuraya XT-Hotspot Brochure
Package Contents
Thuraya XT-Hotspot Portable Battery Powered Wireless N Router
110/220 volt DC adapter with US plug
EU and UK plug adapter
USB cable
USB Hub (required to interface the XT-Hotspot to lower speed devices like the XT phone)
Flat Ethernet Cable
Printed Quick Start Guide
Resource CD containing the User Guide
Where to buy
The Thuraya XT-Hotspot is available from a number of Thuraya distributors and resellers. See
Thuraya Service Partners
for more information
Manufacturers Seconds
From time to time manufacturing rejects are available directly from Great Arbor Communications. These are units which are new and used, but have cosmetic defects like scratches or discolorations on the surface. There is no difference in functionality between these "seconds" and the regular units available from Thuraya Service Partners. Note that packaging of these units is slightly different from the regular units.
Manufacturer's Seconds: Price: $229 + Shipping
Shipping via USPS Priority Mail within US for $10 and to Canada for $15. Please send email to sales@greatarbor.com for shipping rates to other countries.
Current Stock: 8 units
Paypal